The MediaArtHistories MA at Danube University is the only international Master of Arts program focusing on preparing art professionals and researchers through a deep exploration of the diverse histories of Media Art, Science and Technology. The core program is a two-year low-residency,either 90 or 120 ECTS Master's degree offered in English. In addition to individual study and project work at your home location, students gather twice a year for two-week seminars with internationally noted media artists and scholars.The connections and community that are formed during the two-week modules are maintained with online networking and project collaboration throughout the year.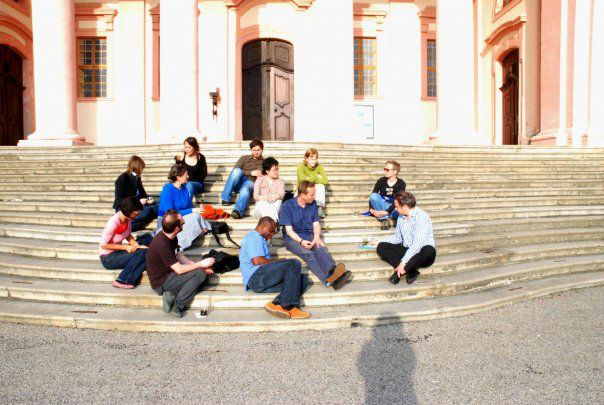 BRAIN TRUST
MediaArtHistories program faculty include: Irina ARISTARKHOVA, Andreas BROECKMANN, Andres BURBANO, Sean CUBITT, Oliver GRAU, Monika FLEISCHMANN, Darko FRITZ, Jens HAUSER, Kathy Rae HUFFMAN, Erkki HUHTAMO, Ryszard KLUSCZYNSKI, Machiko KUSAHARA, Andreas LANGE, Martina LEEKER, Christopher LINDINGER, Wolf LIESER, Roger MALINA, Lev MANOVICH, Nat MULLER, Gunalan NADARAJAN, Frieder NAKE, Jussi PARIKKA, Christiane PAUL, Ana PERAICA, Margit ROSEN, Christopher SALTER, Paul SERMON, Edward SHANKEN, Jeffrey SHAW, Christa SOMMERER, Morten SONDERGAARD, UBERMORGEN, and others.
Target group
Professionals from interest fields such as art and art history, cultural studies, humanities, museology, media or similar e.g gallerists, artists, museum staff, or any applicants with a general interest in arts.
Course option
Master of Arts (MedienKunstGeschichte - MediaArtHistories)
Master of Arts (MediaArtHistories - Advanced)
Certified Program
Admission requirements
Study or work experience according to regulations
Study or work experience according to regulations
Study or work experience according to regulations
Learning format
Duration
4 Semester, part time
5 Semester, part time
2 Semester, part time
ECTS-Points
90
120
30
Course fee
EUR 10.850,--
EUR 12.850,--
EUR 4.850,--
Start
Winter semester 2023/24
Winter semester 2023/24
Winter semester 2023/24
Language
English
English
English
Organizer
Administrative assistance