Program Objectives
The TISE consortium introduces a program integrating different disciplines (Social Sciences, Socio-Cultural Studies, Economics on the base of a Complexity/Systems Science and Transdisciplinarity approach), and thus creating a holistic program focusing on processes of transition and innovation strategies, educating students to be change agents for challenges in complex human-environment systems (socio-cultural/socio-technical/socio-economic).
TISE delivers a holistic take on transitional processes from diverse points of view. Under the umbrella of Systems Sciences (DUK), it integrates Socio-Cultural Studies (UNL), Social Sciences (UCD) Economics (PUEB), and the impact of Technology on today's societies, leading to a deeper understanding of the multiplex environments and their issues. At the same time, the program offers sets of tools and methodologies to approach the opportunities and risks that emerge from these transitional processes.
Program Objectives
Objective 1: To educate change agents for institutions and organizations, who are capable of utilizing diverse sets of tools

and competences

from the different disciplines (socio cultural studies, social sciences, economics and technology). Complexity

sciences functions as an umbrella to enable the interdisciplinary discourse as base for

transdisciplinary approaches to address

complex challenges respond to processes of transition and thus increase resilience and sustainability of organizations and institutions.

Objective 2:

To foster the ability to assess the impact of socio technological and transitional processes

on culture and society, through a deeper systems understanding (in context of multiplex-coupled system environments), especially concerning system vulnerabilities, and, furthermore, to recognize the correlations/interrelations on the different spheres of human action.
Objective 3: To improve the initiation and management of transdisciplinary initiatives for complex problem areas

by equipping graduates with managerial and decision making competences to develop innovation and leadership concepts and instruments for institutions and organizations.

Objective 4: To foster cross border and cross boundary collaboration by providing alumni with tools and competences using transdisciplinary approaches to initiate multidimensional knowledge integration for problem and solution oriented innovation strategies.
Objective 5: To promote an innovation supporting mind-set and strengthen science-society relationships

by equipping graduates with an entrepreneurial competences and the ability to facilitate the transfer of scientific knowledge and foster science - society relations embedded in sustainable environments.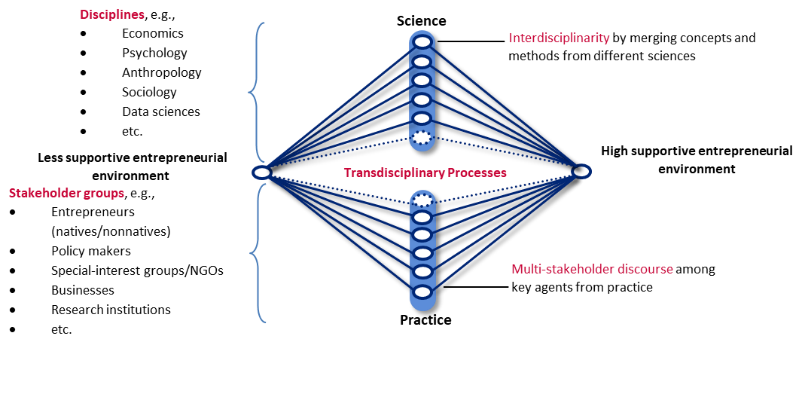 Transdisciplinarity, in its essence, aims at the generation of "socially robust knowledge" (Gibbons and Nowotny 2001; Häberli et al. 2001; Nowotny 1993) by multidimensional knowledge integration when dealing with complex and societally relevant problems in a mutual learning process between science and key stakeholders from practice (Scholz and Steiner 2015).
Funding
The Erasmus+ Program of the European Union co-founds this program. Funding for the program as well as travel expenses and accommodation are available under specific circumstances in the form of Erasmus Mundus Joint Master Degree scholarships.
The consortium will also support TISE students without EMJMD scholarship in applying for this financial aid through the Erasmus+ Student Mobility financial aid e.g. for studying in the second semester and the mandatory internship.