Permanent magnets are key elements of modern society. Important application areas are energy conversion including eco-efficient transport, hydro- and wind power. A promising magnetic material is MnAl-C. Although it contains no ferromagnetic elements such as iron, nickel or cobalt, the so-called tau-MnAl-C is ferromagnetic up to high temperatures and has all properties which are prerequisites for high performance permanent magnets. The tau-MnAl-C contains no critical elements and therefore the long term use of this material is environmentally sustainable, in stark contrast to that of rare earth magnets such as Nd-Fe-B. In addition, tau-MnAl-C has a low physical density, which is a significant advantage for transport and aerospace applications.
In this project, a novel approach combining state of the art characterisation techniques with cutting edge computer simulations will be used to obtain quantitative information concerning the effect of interfaces on magnetisation reversal in tau-MnAl-C.
On 20.09.2018 a project meeting took place in Krems. Participants were Dr. Thomas G. Woodcock and Panpan Zhao from IFW Dresden, and Dr. Markus Gusenbauer, Dr. Thomas Schrefl and Harald Özelt from Donau-Universität Krems. The exchange of previous research results was extremely informative in order to define the next project goals. A work plan was drawn up for 3 joint publications to be implemented in the next project year.
On the 3rd and 4th of May 2017 the FWF Roadshow took place at Campus Krems. The information event of the FWF started with high-level discussions of the associated institutions on the campus. A presentation by the FWF and small group consultations were followed by a poster presentation and Speed Talks by FWF-funded scientists. Dr. Markus Gusenbauer spoke about the project "The Effect of Interfaces on Magnetisation Reversal in MnAl-C".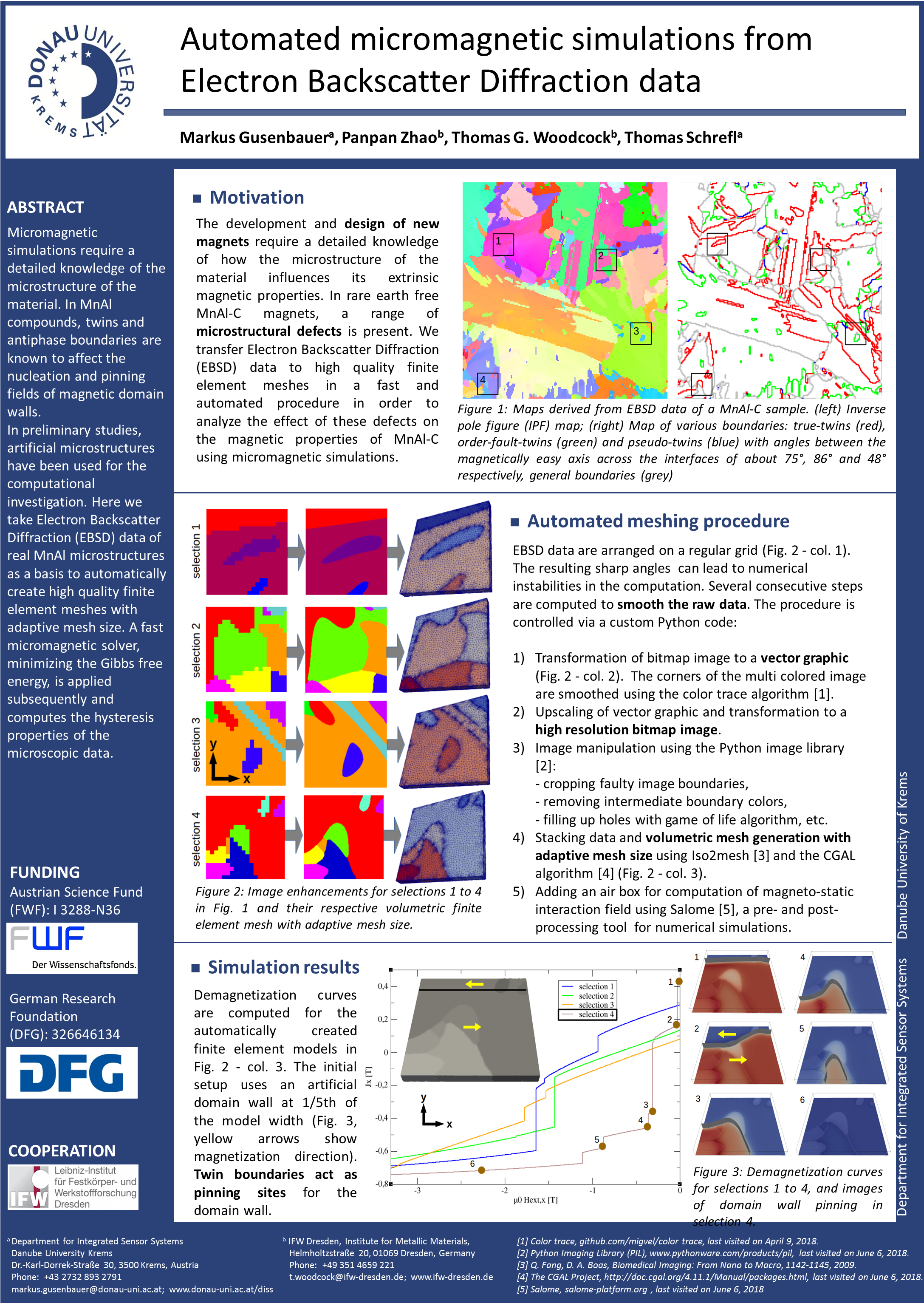 The first kick-off meeting took place in Dresden on 15 February 2018. Participants were Dr. Thomas G. Woodcock and Panpan Zhao from IFW Dresden, and Dr. Markus Gusenbauer and Dr. Thomas Schrefl from the Danube University Krems. The day was used extremely productively with status reports from the respective project partners, laboratory tour of the Institute for Metallic Materials, brainstorming to achieve the project goals and a detailed division of work for the coming project months.
An abstract was submitted to the Joint European Magnetic Symposia (JEMS) 2018 Conference, which will take place from September 3 - 7, 2018 in Mainz (https://jems2018.org).
Our project partners in Dresden have submitted an abstract to the Materials Science and Engineering Congress - MSE 2018, which will take place from September 26 - 28 in Darmstadt (http://www.mse-congress.de/).
@ Details:
Projectpartner:
Thomas G. Woodcock,
IFW Dresden, Institute for Metallic Materials
http://www.ifw-dresden.de/institutes/imw/research/magnetic-materials/
Auftraggeber:
FWF, Project: I 3288-N36
Publications
Arapan, S.; Nieves, P.; Cuesta-López, S.; Gusenbauer, M.; Oezelt, H.; Schrefl, T.; Delczeg-Czirjak, E. K.; Herper, H. C.; Eriksson, O. (2019). Influence of antiphase boundary of the MnAl t-phase on the energy product. Physical Review Materials, Vol. 3, iss. 6: 064412
Lectures
Bridging the gap between biomedical applications and material sciences
3rd Workshop on Modelling of Biological Cells, Fluid Flow and Microfluidics, 11/02/2020
Micromagnetic characterization of MnAl-C using trained neural networks
JEMS2019, Uppsala, Schweden, 29/08/2019
Automated micromagnetic simulations from Electron Backscatter Diffraction data
JEMS 2018, 05/09/2018