Again this year the University for Continuing Education Krems commemorated this memorial day with a special event.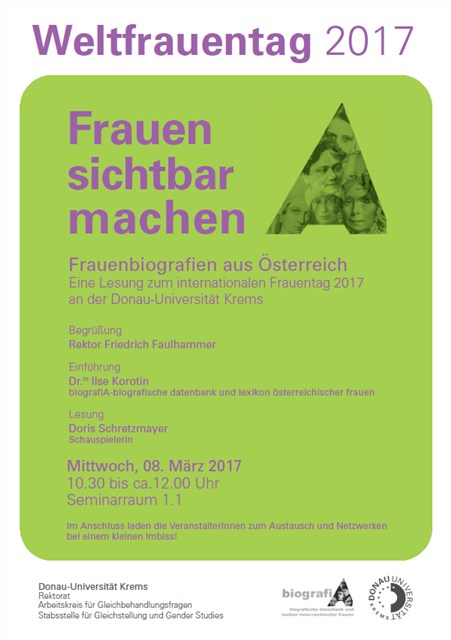 The actress Doris Schretzmayer read excerpts from "biografiA", a collection of biographies of famous and not so famous Austrian women from the Middle Ages until today, compiled by Dr. Ilse Korotin:
From Elisabeth of Hungary, aristocrat, (1409-1442), the "Stainerin", beggar and swindler (1740-unknown), Francesca Scanagatta, officer, who dressed as a man in the Habsburg Imperial Army (1776-1865), Anna Forneris, Carinthian farmer's daughter and orient traveler, (1783- unknown), Gerty Cori, biochemist and Nobel Prize winner (1896-1957), Eugenie Goldstern, ethnologist and scientist, (1883-1942) through to Stella Kadmon, theatre maker (1902-1989).
Dr. Ilse Korotin, head of the women's studies documentation office at the Institute of Science and Art in Vienna and founder of the biographical collection, and the actress Doris Schretzmayer chose the stories of these seven women for International Women's Day at the University for Continuing Education Krems. The reading event recalled historical women whose biographies remained largely unwritten and therefore invisible.
In his welcome speech, Rector Friedrich Faulhammer emphasized the role of equality and equal opportunities at the University for Continuing Education Krems. Since 2005, numerous measures have already been taken at the university to establish equal opportunities and equality. According to the Rector, however, the university management is aware that further efforts are needed to take the University for Continuing Education Krems to Austria's top group of public universities with regard to equal opportunities. Faulhammer further pointed out that increasing the ratio of women in executive positions is one of the seven guiding strategies established at the University of Continuing Education Krems: the advancement of women through appropriate appointment policies and access to executive positions.
However, according to Dr. Doris Czepa and Michaela Gindl from the Office of Equality and Gender Studies and Mag. Friedrich Altenburg, Chairman of the Committee for Equality Issues at the University for Continuing Education Krems, in order to achieve equality for women it is enormously important to draw attention to women's influence on society and history. With this event, the Office for Equality and Gender Studies aims to signal this importance on the path to emancipation and equal opportunity.