Krems is a traditional educational town - with more than 25 schools and high schools attended by more than 20,000 students. Therefore, Krems' environment is richly furnished with restaurants, hotels, guest-houses and students' hostels, as well as leisure-time and cultural facilities. The idyllic environment of the Wachau, its exquisite wines and numerous sports facilities contribute in significant measure to the quality of life of students at the University for Continuing Education Krems.
Historic buildings and architecture from the middle-ages in the parts of Krems and Stein show for a meaningful past. The community, already mentioned in 995 as "urbs chremisa", was once the center of salt and wine trading and is one of the oldest towns in the country.
Strolling through the medieval alleyways, tasting wine in closed-down monasteries, relaxing in a café by the street, and amusedly smiling in the museum of caricatures: art and culture can be experienced and lived in Krems. The folk music festival "Glatt & Verkehrt", the Donaufestival and the exhibitions at the internationally renowned Art Center Krems are the highlights of the town's annual event calendar. As a member of the art-mile in Krems, the University for Continuing Education Krems is a regular part of the local art and culture scene.

The University for Continuing Education Krems is an ideal starting point for jogging, cycling, playing squash and tennis, or simply for taking a walk through the vineyards. Oarsmen and swimmers can pursuit their hobbies in the nearby Danube River.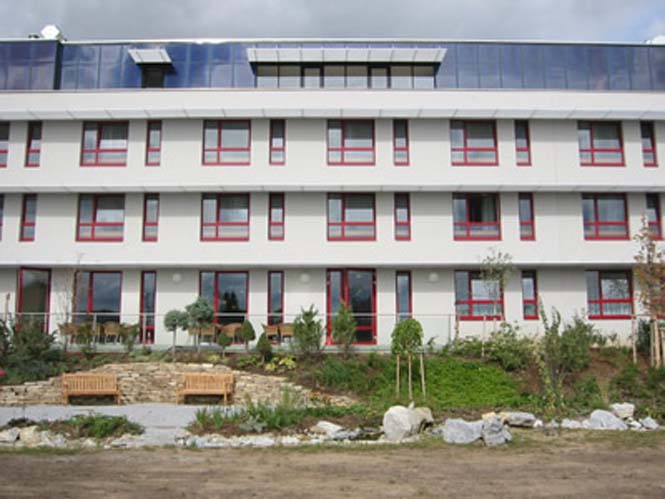 Kolping students residence hall on Campus Krems.
Disabled friendly rooms.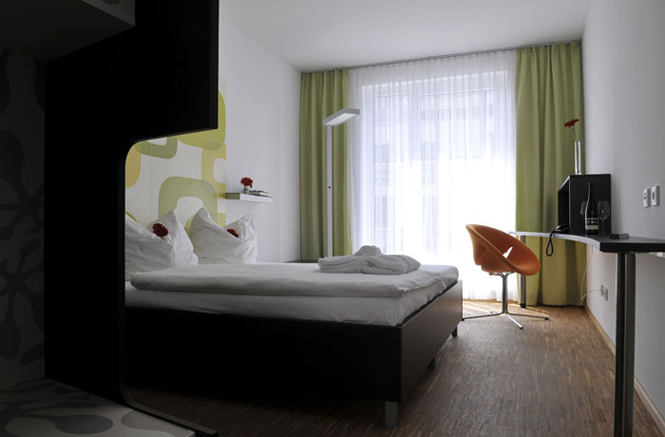 A new 4-star design hotel on campus west (opposite to the university) offering 182 rooms, a fitness center, wellness oasis, a bar and a restaurant.
Disabled friendly rooms.
Steigenberger Hotel and Spa Krems
With view over the River Danube, nestled amongst the surrounding vineyards, the Steigenberger Hotel and Spa Krems offers guests a hearty welcome. The Danube University is only approximately 300 meters away from the 4-Star-Superior Hotel with 128 rooms and 45 suites and a 3.000 m² "Spa World Luxury" area with indoor pool, outdoor pool during the summer months, saunas, steam bath and fitness area.
Disabled friendly rooms. Discount for students and lecturers of Danube University Krems.
OeJAB - Europazentrum Krems, student hostel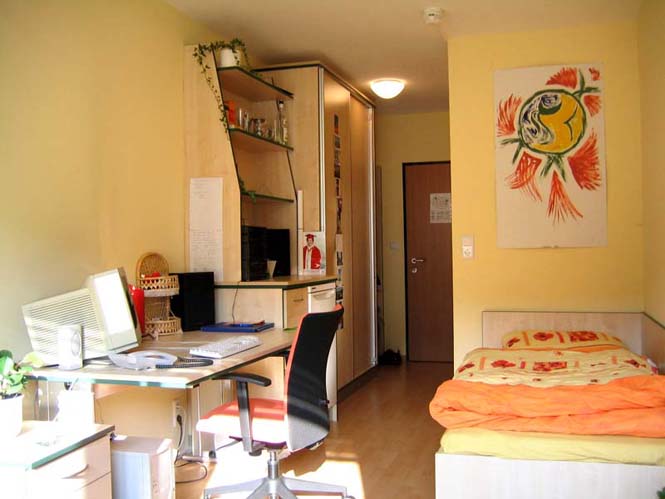 The hostel "OeJAB-Europazentrum Krems" is situated about 700 meters away from Danube University Krems, quietly and very centrally located at the old city of Krems with pedestrian area, restaurants and shopping. The non-profit hostel offers 103 places in family-like, warm atmosphere. All single and double rooms are equipped up-to-date and have shower, toilet, SAT TV connection and internet connection. In the hostel there are inviting community kitchens on every floor, laundry facilities, a TV room and others.
Salzstadl
Donaulände 32, 3504 Krems-Stein
Tel. +43 (0)2732 70312
Plain fare, economical lunches, frequently live music in the evening.
Ristorante Firenze
Schürerplatz 9, 3504 Krems-Stein
Tel. +43 2732-21340
Italian dishes - pizza, pasta, salads, barbecue specialties, fresh fish, wines of italian winemakers, daily changing lunch menu.
Restaurant Corleone
Göttweigerhofgasse 6, 3504 Krems-Stein
Tel. +43 (0)2732 / 74222
Taverne Zorbas
Steiner Landstraße 24, 3504 Krems-Stein
Tel. +43 (0)664 456 42 27
Wellen.Spiel
Welterbe-Platz 1, 3500 Krems
Tel. +43 (0)2732 75055
Café, restaurant and lounge, with big terrace directly at the Danube river. Only 5 minutes by foot from Campus Krems.
Wachauerstube Loiben
Unterloiben 24, 3601 Dürnstein
Tel. +43 (0)2732 85950
arte
Obere Landstraße 4, 3500 Krems
Tel. +43 (0)664 13 50 621
The traditional ambient of a gallery combined with the choice offers of a wine bar. StudentServiceCard. Buy 6 bottles of wine, get one free - with your StudentServiceCard.
Café Konditorei Hagmann
Untere Landstraße 8, 3500 Krems
Tel. +43 (0)2732 83167
Pastries, sweets, and prize-winning chocolate specialties are served in the traditional Krems cake-shop. Pay 10% less with your StudentServiceCard (from 10 euro onward).
Harry´s
Bühlcenter, Wienerstraße 96-102, 3500 Krems
Tel. +43 (0)2732 792151
Perfect for a culinary break while shopping. With the StudentServiceCard you get a 10% discount when you consume food and/or beverages worth 10 euro or more.
Heuriger Mayer Resch
Steiner Kellergasse 40, 3504 Krems-Stein
Tel./Fax +43 (0)2732 82636
Special fitness snack created for Danube University Krems! All-season wine selling, home-made schnaps.
Kaiser von Österreich
Körnermarkt 9, 3500 Krems
Tel. +43 (0)800 400 171 052
Gourmet restaurant in the Old Town of Krems. Cover (usual price: EUR 3,30 per person) free of charge for students and employees of Danube University Krems.
Nordsee
Obere Landstraße 20, 3500 Krems
Tel. +43 (0)2732 82045
Students may enjoy the most popular fish specialties and in-between snacks at a 10% discount (when you consume food and/or beverages worth 10 euro or more).
Gastronomy on Campus Krems
More Restaurants and Heurige
You can spend your leisure time in Krems and the Wachau exactly as you desire. Those interested in art will find just as many attractions as will sports enthusiasts, gourmets or wine-lovers. Here you find the best websites with suggestions for spending your leisure time, divided according to topics of interest.