"Modernizing Europe: Generating Accountability" was the topic of the Danube Rectors Conference (DRC for short) 15th Summer School, which took place in July at Danube University Krems and in Vienna – at the start of the Austrian EU Council Presidency. In the spotlight: every individual's responsibility for Europe's renewal.
In his welcome speech to approximately 30 students from countries in the Danube region, Friedrich Faulhammer, Rector of Danube University Krems, in his function as DRC President, emphasized the significance of universities for the development of this important region for Europe. Universities, according to Faulhammer, are sources of inspiration for the Danube region and, serving as a hub between the international and regional levels, implement the EU Danube region strategy. Addressing the Summer School participants, the DRC President stated that Europe is the responsibility of each and every individual; it needs everyone's accountability in order to master its challenging tasks.
The conference specifically targets young academics and students from the social, humanities and political sciences, and provides an opportunity for academia to network with representatives from politics and practice. The four working groups, split by themes into "Rise and fall of empires: integration and re-nationalization", "Towards a European federation: achieving EU integration through democratization", "Fostering brain-circulation in CEE" and "Protection of cultural heritage in the Danube's surrounding regions" presented the latest research findings related to the Danube region.
The Danube Rectors Conference is a network of approximately 70 universities based in the countries of the Danube region. The conference aims to connect the universities with each other and contributes to implementing the EU strategy for the Danube region through science, research, continuing education and trans-disciplinary activities.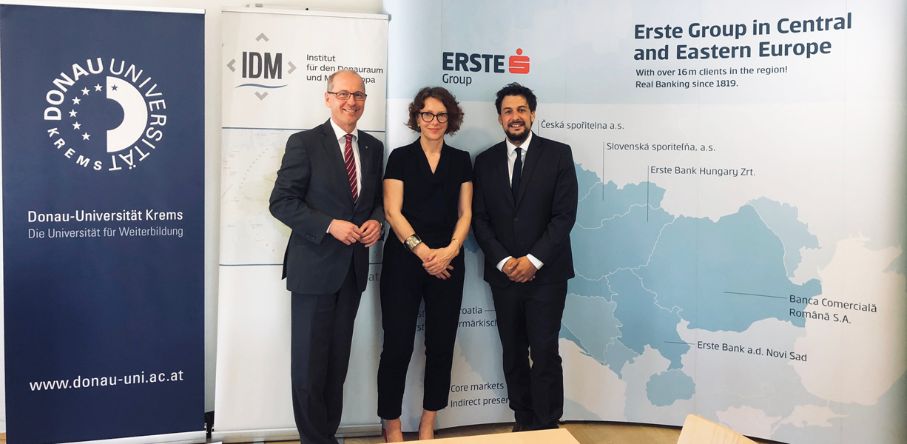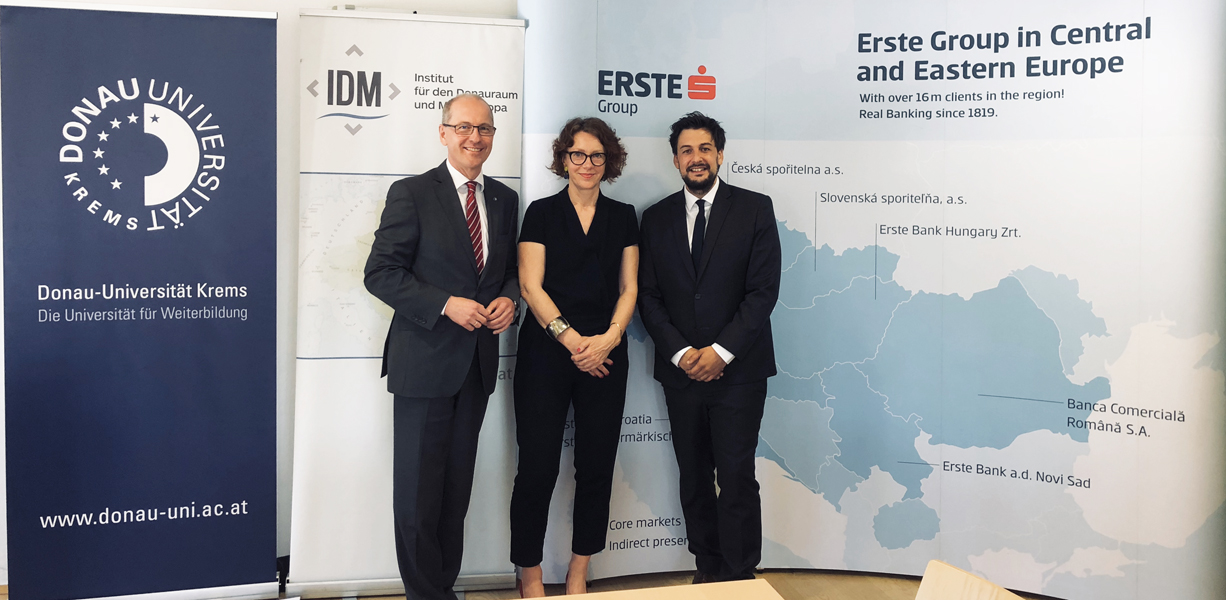 Ways to modernize Europe at 15th DRC Summer School. From left to right: Mag. Friedrich Faulhammer, Danube University Krems' Rector and President of the Danube Rector's Conference, Univ.-Prof.in Dr.in Ulrike Guérot, University Professor for European politics and democracy research at Danube University Krems, Mag. Sebastian Schäffer, MA, IDM – Institute for the Danube Region and Central Europe as well as DRC's general secretary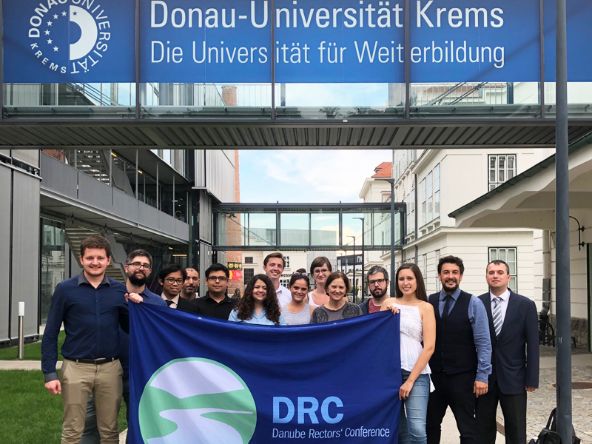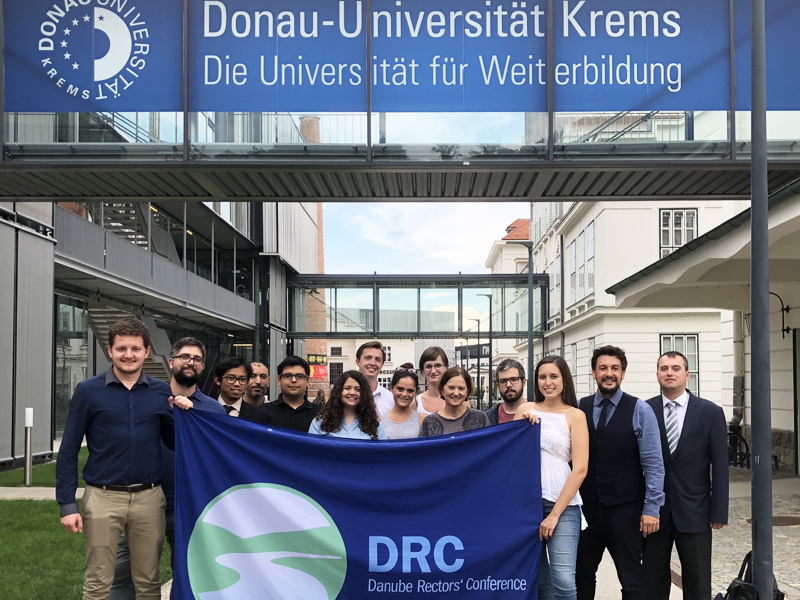 The 15th DRC Summer School attending researchers and students from the area social, human and political science discussing ways of modernization for Europe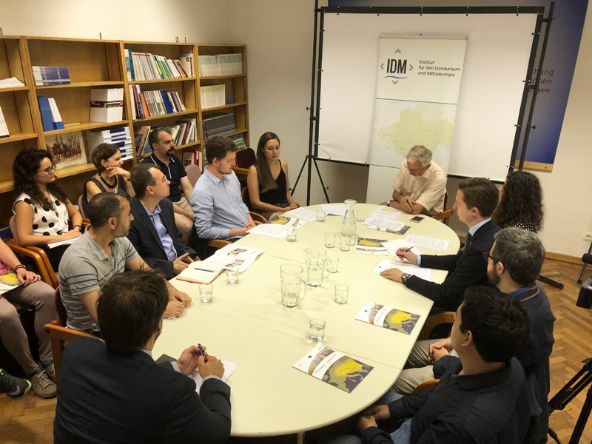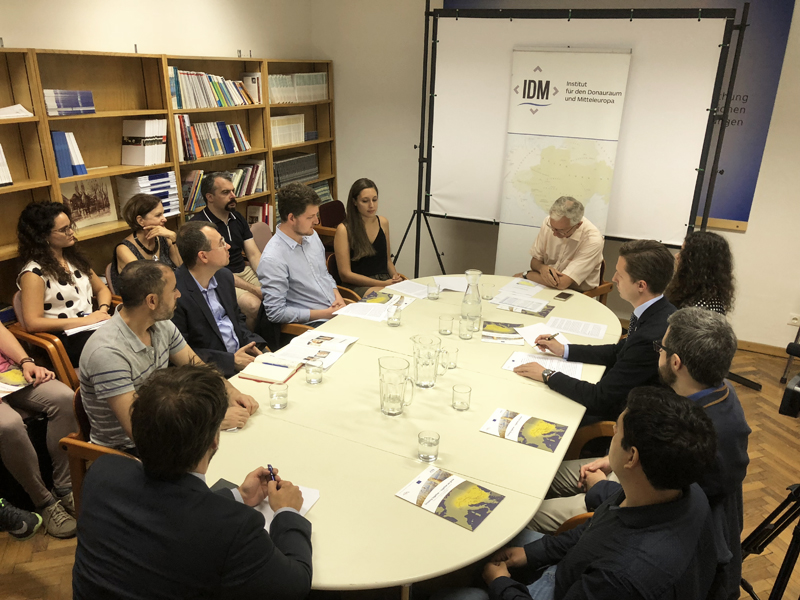 Representing intensive discussions within the work groups here the workshop lead by Rudolf Schicker, the coordinator of the Prior Area 10 for the Danube Region
Previous image
Next image