A Roman Danube ship from the 4th century AD is reconstructed true to the original in the course of the Interreg DTP project "Living Danube Limes". From the second half of 2022, it will sail the Danube with authentically equipped crews on board. For this purpose, the project team is looking for adventurous people who would like to become part of the ship's crew.
On 15 July 2022, the "Living Danube Connecting Cruise" will set off from Ingolstadt, Germany, ending the cruise in the Danube Delta in November 2022. Navigation will take place on a Roman rowing and sailing ship from late antiquity named "Danuvia Alacris". Together with its crew of about 18-20 rowers and a guide team of four to five people, the vessel will cover a distance of about 40 km per day. The distances will be either rowed where possible or sailed in some cases.
There are nine sections, each of which is rowed by different teams. The rowers will change every second week on average and row in Roman clothing (tunic, shoes, etc.). Along the route, festivals will be organized at selected landing stages, during which interested visitors will be able to exchange ideas.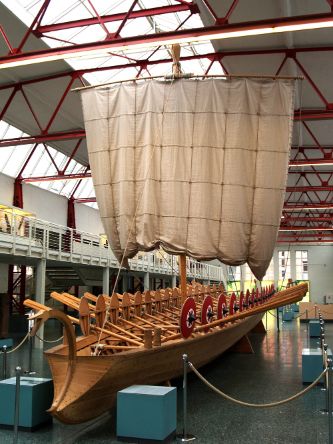 One photo of a Lusoria, located in the Museum of Ancient Navigation in Mainz, Germany
Previous image
Next image
Danube Limes a shared cultural heritage
"Living Danube Limes" builds on EU-funded predecessor projects such as "Danube Limes Brand" and "DANUrB" to make the Danube Limes visible and tangible through as many interlocking and sustainable measures as possible - such as geophysical surveys, virtual reality reconstructions, museum cooperation, events and sustainable tourism concepts.
The project consortium of "Living Danube Limes" includes 19 university, government and private sector project partners from ten countries. In addition, there are 27 associated strategic partners who support the consortium with all relevant competences in the fields of archaeology, antiquities research, technology, architecture, virtual reality, museum operations, tourism management, cultural heritage protection and living history. The project is budgeted at around 3.2 million euros, runs from July 2020 to December 2022, and reaches from Germany to Bulgaria and Romania to the Black Sea.