... in heaven - The Lightlab at Danube University Krems
Light is the most important source of information for human beings. The eyes perceive 80 percent of all information. Therefore it is hardly surprising that, besides its visual functions, daylight significantly affects our physical and mental comfort.
During the concept-phase of a building project, it is imperative that light is handled correctly and carefully. Specialized knowledge is required to make draft-relevant decisions, for example the correct positioning of openings in buildings, the selection of shading elements, controlling elements etc.
At Danube University Krems we deal with light in its entirety. It's our aim to accomplish the best daylight quality in buildings and to find solutions to supplement daylight with appropriate artificial lighting as necessary.

Operating Mode
Our artificial sky in the lightlab makes it possible to study daylight distribution and its quality in interior and exterior rooms for projects in the design phase.

The aim of this tool is to convey the diversity, importance and beauty of light to students. We also provide our scientific research as a service. The potential for good light quality can, therefore, be defined and implemented on a case-by-case basis on projects in progress.

3D Model
The artificial sky is a combination of a skydome with 230 halogen high voltage light bulbs and a moveable, artificial sun consisting of a 1000-watt high voltage halogen bulb with a parabola mirror.

With the aid of solar altitude diagrams, and under controlled conditions, the construction makes specific simulations of daylight situations during different seasons and at different times of day possible from every location on earth.

Solar altitude simulation
This flexibility allows architectural models in different scales and draft phases to be studied. It also allows the amount of light to be controlled, to show for example, light incidence, delayed daylight amount, sun and sky visibility, shading, vegetation, blinding etc. These are but a few of the scenarios that can be simulated.
Based on models drawn to scale, the artificial sky in the light laboratory permits quantitative, qualitative, room-specific or even urban building analyses.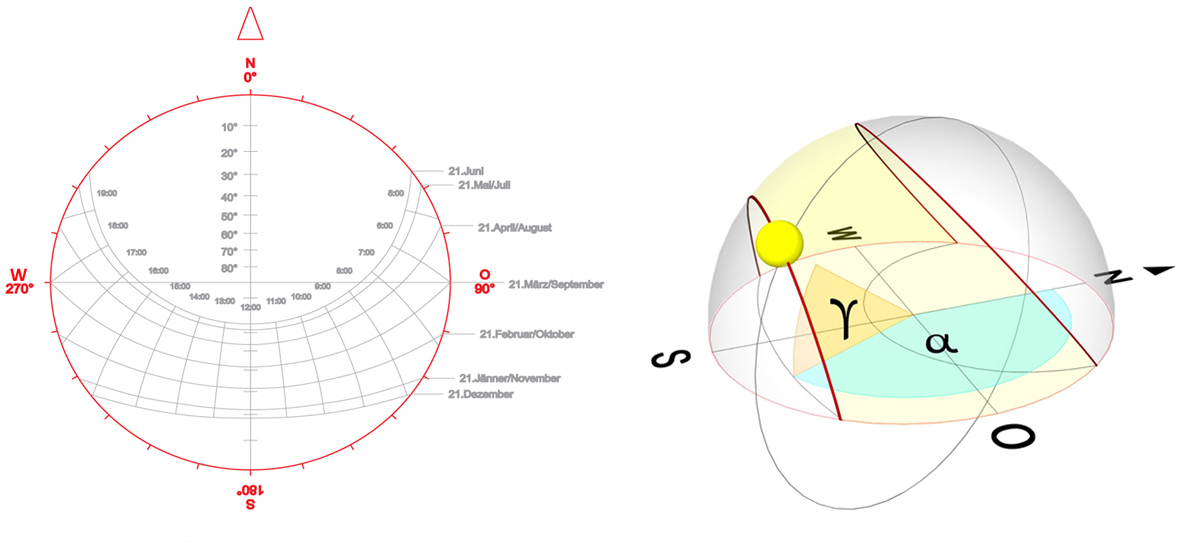 Technical Data
Steel dome 6 meters in diameter, 230 bulbs, parabolic aluminum reflectors, halogen high voltage light bulbs 150 w blue color temperature filter foil color temperature: 3000 K- daylight similar, daylight color temperature 4200 K
Direct light, high voltage halogen bulb 1000 w with parabolic mirror
Maximum horizontal luminance by diffuse skies 27000 lx and by solar altitude 60 degrees
The simulation of the diffuse light of the skies results from a hemispherical arrangement of 230 single light bulbs with halogen high voltage light bulbs and aluminum reflectors and a filter foil, which simulates daylight's color impression (3000 K).
The parabolic mirror bundles the light of the "sun" to a directed ray with a diameter of 120 cm. The sun's position can be altered as required.

User Fees
The Department for Building and Environment offers the use of the lightlab with its measurement devices as a service for people who work in the field of architecture.

The potential for good light quality can, therefore, be defined and tested on a case-by-case basis before the project is completed and implemented.

The user fees are as follows:
| | |
| --- | --- |
| Unsupervised use €/hour | 100€ /hour |
| Unsupervised use including measuring devices €/hour | 170€ / hour |
| Supervised use (supported by staff from the DBE) €/hour | 170€ / hour |
| Supervised use (supported by staff from DBE) including measuring devices €/hour | 240€ / hour |