"Operation Dementia" is the name of a learning program developed by Univ. Prof. Dr. Stefanie Auer from Danube University Krems in collaboration with MAS Alzheimer Help and the security academy of the Federal Ministry of Internal Affairs. More than 2,500 police officers in Austria have already completed the program. On 22 May 2017, the "Competence in Handling Dementia" certificate was awarded to 25 police departments.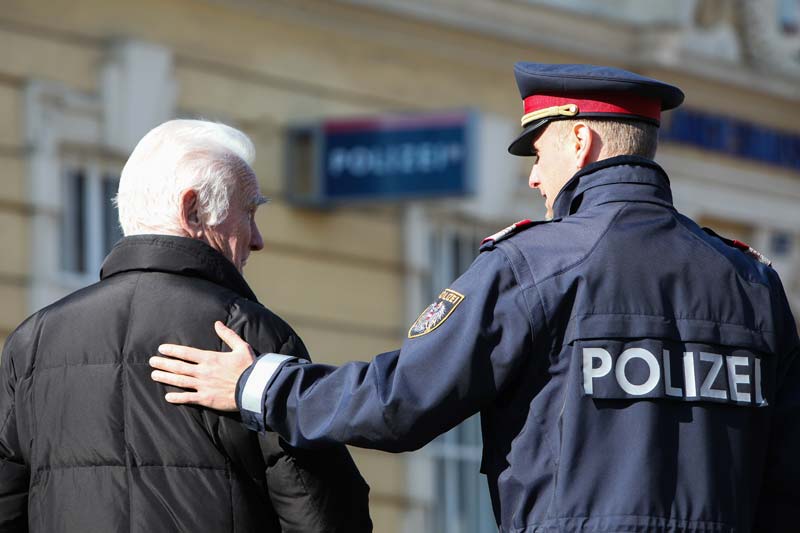 These 25 departments were certified as "dementia-friendly" after 70% of the officers had successfully completed the e-learning program "Operation Dementia" and received their certificates and badges at an official ceremony held at the Federal Ministry of Internal Affairs. The departments were also required to prove that they were actively cooperating with social services providers. The vocational training tool was developed and evaluated by Univ. Prof. Dr. Stefanie Auer, Head of the Center for Dementia Studies at Danube University Krems, and scientific director of MAS Alzheimer Help, against the backdrop of the soaring number of people affected. In Austria alone, 130,000 people currently suffer from dementia; worldwide, the number is close to 46.8 million. According to a report by Alzheimer's Disease International published in 2015, that number is expected to almost double every twenty years.
Bringing science and practical reality together
"Police officers are increasingly called to incidents involving dementia. These range from searching for disorientated individuals to dealing with frightened relatives," says Stefanie Auer about the background of her project "Operation Dementia," which aims to enlighten everyone concerned. The e-learning program incorporates the latest scientific findings as well as the experiences of police officers, the dementia sufferers and their relatives. The project was supported and funded by "Fonds Gesundes Österreich" and BVA, the civil servants social security institution. Technical implementation was carried out by the security academy, the educational and research facility of the Federal Ministry of Internal Affairs.

Mastering difficult situations
"Operation Dementia" is divided into three modules (Basics, Security with Competence, Understanding People with Dementia) and includes videos and interactive elements. The online training course can be completed in a short time via the security academy's intranet and can be repeatedly accessed at any time if practical instructions for specific situations are required. After all, dealing with dementia competently is not just a matter for sufferers and their relatives but for police officers themselves. By understanding the disease, they can tackle difficult situations better, thus reducing stress-related strain.

Imparting a fundamentally respectful attitude
"Moreover, understanding dementia is a prerequisite for developing a respectful attitude towards people suffering from dementia," Stefanie Auer points out. This fall, she will be heading the Dementia Studies program at Danube University for the sixth time. "In an environment that understands dementia and respectfully deals with the needs of the people affected, dementia sufferers will find themselves in surroundings in which they can react in a socially appropriate manner and hence live more harmoniously integrated into society," says the professor for dementia research. For this reason she aims to find broader application for the extended vocational training program she developed. "I hope that members of other professions will follow the example of the police," says Auer. Now that the e-learning program has been field-tested, it could be adapted for other target groups.