In the context of the increasing importance of data in the economy, the LL.M. on Data Economy Law covers potentials, challenges and (legal and societal) risks of data-driven management and data-oriented business models. Knowledge will be provided on the legal, societal, technical and organizational dimension and on how to implement data-driven management and business practices in order to avoid risks and drawbacks.
The LL.M. on Data Economy Law was created within an Erasmus+ strategic partnership of four EU universities – University for Continuing Education Krems (Krems, Austria), Georg August University Göttingen (Göttingen, Germany), Masaryk University (Brno, Czech Republic) and Kazimieras Simonavicius University (Vilnius, Lithuania).
For more information on the program history visit: www.ddm4sme.eu
The program faculty includes the professors and senior researchers from all partner universities as well as experienced practitioners from European law firms and technology companies, who bring practical insights to the classroom.
Target group
High potentials and professionals from data-driven businesses with a special interest in legal issues.
Course option
Master of Laws
Admission requirements
Study according to regulations
Learning format
Duration
2 Semester
ECTS-Points
60
Course fee
EUR 8.800,--
Start
2 October 2023
Language
English
Regulation (Curriculum)
Study location
University for Continuing Education Krems
Dr.-Karl-Dorrek-Straße 30
3500 Krems
Austria
Organizer
Additional Events
Co-organized by all Partner Universities, the Conference on Data Economy Law (DeLCON) is a new conference series and will provide a platform for presentations and discussions by international experts in the field of data and innovation law. Graduates of the Data Economy Law, LL.M. program will also have the opportunity to present their research results to a broad audience. You can find more information regarding the DeLCON under the following link: https://www.ddm4sme.eu/delcon/
In addition, the Summer School on Data Economy Law provides a compact three-week learning event with lecturers from all partner universities and international organizations. The Summer School offers the perfect opportunity for interested students to gain insights into the world of data economy law and to get in touch with other high potentials from all over the world. You can find more information regarding the Summer School under the following link: https://www.ddm4sme.eu/summerschool-2022/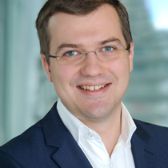 "
"Against the background of various complexities within the data economy and its regulatory framework, a profound legal education paired with the necessary technical, societal and managerial fundamentals is crucial to a successfull participation in the data economy. Our new LL.M. program fills a gap in the international education landscape and offers state-of-the-art content and innovative learning designs to ensure the success of our students."
Prof. Dr. Clemens Appl, LL.M., Program Director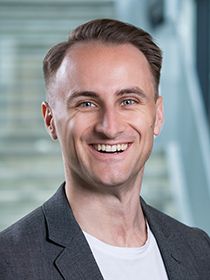 Further Questions about the study program?
Please feel free to contact us directly.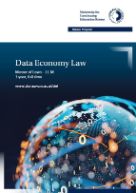 Online Infosession
Get your information online!
Tuesday, 23 May 2023, 10:00 a.m.
Tuesday, 30 May 2023, 5:00 p.m.
Tuesday, 6 June 2023, 10:00 a.m.
Tuesday, 13 June 2023, 5:00 p.m.
Tuesday, 20 June 2023, 10:00 a.m.
Tuesday, 27 June 2023, 5:00 p.m.
Link to event page