Mission
Opening September 2022 the Phosphate Data and Knowledge Hub will become a global clearing house for all relevant information pertaining to the phosphate cycle from mine to field and beyond. Phosphate as an non-substitutable component of all living organisms is a crucial resource for future food security and a major international trade good. P-DaKH as a co-operation between the Global Phosphorus Institute and the University for Continuing Education (Danube University) Krems is dedicated to collecting, analysing and providing reliable data on all stages of the phosphate cycle and to make scientific insight and expert knowledge available to policy makers, business leaders and the general public.
Database
To understand the dynamics of the supply and the demand side, P-DaKH will take a leading role in global sustainable mineral resources management, aiming to provide "a right to know based" data hub, which includes unbiased and transparently generated open data banks on phosphate resources and reserves data. The P-data bank will be a ground-breaking innovation (compared to common data banks of national geological surveys, mining agencies and other institutions) as it focuses on the dynamics of future reserves and resources.
Web Presence
The future web presence of the Phosphate Data and Knowledge Hub will come online under www.p-dakh.org in short order. Until then the Transdisciplinary Laboratory Sustainable Mineral Resources provides our temporary home in the web.
Publications
In particular we invite you to peruse our publications, all available from our host website here.
Stay with us. The sustainable phosphorus future begins here.

P-DaKH at the Global Symposion on Soils for Nutrition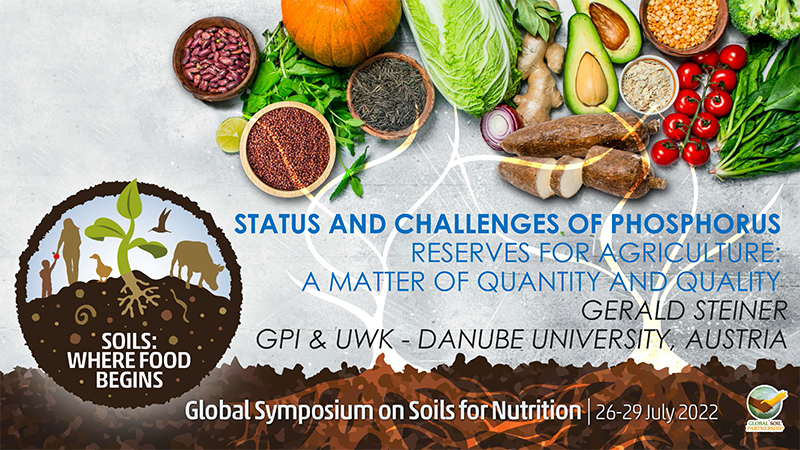 2022-07-29: P-DaKH scientific lead Gerald Steiner presented current research and the launch of the Hub at a conference held by the United Nations' FAO (Food and Agricultural Organization) under the title "Status and Challenges of Phosphorus Reserves for Agriculture: A Matter of Quantity and Quality".
Download the presentation
P-DaKH short profile available for download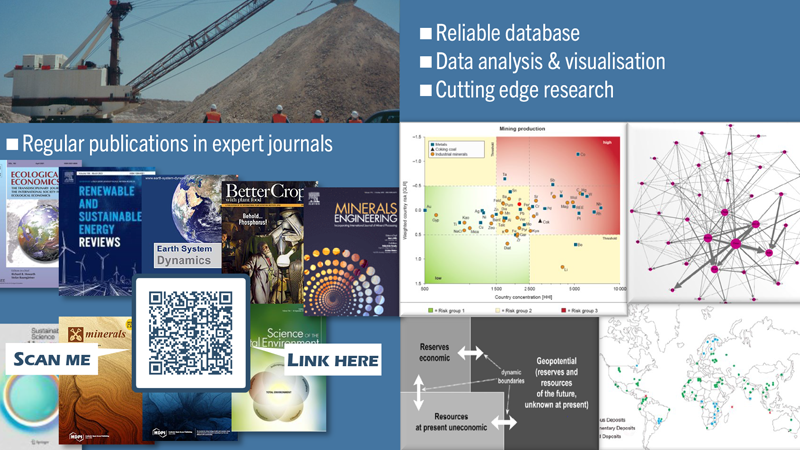 You can download a short profile of our organization for print or online distribution.
Download the Short Profile
P-DaKH at the 19th International Plant Nutrition Colloquium (IPNC)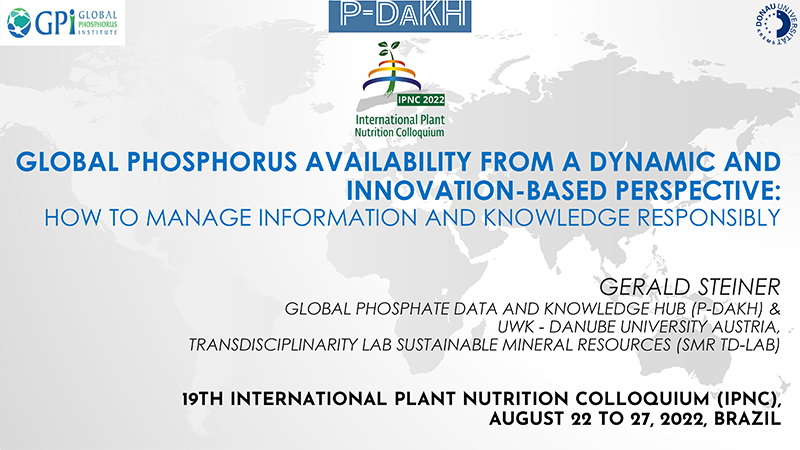 2022-08-26: D-DaKH's Gerald Steiner presents the Hub and current research at the IPNC 2022 in Iguassu Falls, Brazil, under the title "Global Phosphorus Availability from a Dynamic and Innovation-based Perspective: How to Manage Information and Knowledge Responsibility".
Download the presentation