UWKonline is a student platform. It provides you with information about your programs and courses as well as the timetables. You can see your study status and print your study sheet and certificates.

When you begin your studies, the Service Center for Students will send you a PIN code with which you can set up access to your account. Once your account is active, you will automatically receive a e-mail address from University for Continuing Education Krems.
Students need a PIN code, which they will receive from the Service Center for Students at the beginning of their studies.
Enter the following information:
PIN code
Student number
Date of birth
The system validates your PIN code and automatically assigns you a user name. You can choose your own password consisting of at least 6 characters with letters and numbers. You will then receive a summary with your user name and your UWK e-mail address (first name.surname@edu.donau-uni.ac.at).

Your access has now been activated and you can login with your user name and password via the key icon.

The UWKonline password is valid for all University network services (e-mail, Wi-Fi, library) with the exception of Moodle.
Attention: The e-mail account will not work until 90 minutes after redeeming the PIN code.
Admin-related information from the Service Center for Students will be sent to your UWK e-mail address. Forwarding to another e-mail address is possible, and must be set up by the students themselves. (See Info E-Mail System for Students).
---
After you have registered on UWKonline, your profile will appear. By clicking on "Edit" you can add some personal information. The following functions are available: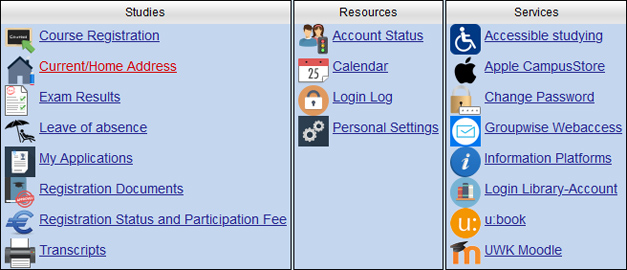 Apple CampusStore
Link to Apple CampusStore (Apple products for sale).
Change Password
The password is also valid for e-mail, Wi-Fi and library. (Info change password)
Current/Home Address
Manage your addresses. Don't forget to enter any changes to your addresses!
Exam Results
A list of all your exams and results.
GroupWise Webaccess
Link to your personal Mailbox at UWK. You can login with your UWKonline user name and password. You can also opt to forward to another e-mail address here.
Information Platforms
Miscellaneous information and help documents about UWK online services.
Leave of absence request
here you can download your application for leave of absence - more information
Login Library-Account
here you get to your personal library account
Registration Documents
Print Record of Studies and Confirmation of Registration
Registration Status and Participation Fee
A list of all your courses with your study status (registered for, closed) and a list of your participation fees with your payment status (due, paid).
Transcripts
All examinations taken during the course of study are shown in the Academic Record. (Recognized examinations do not appear!)
UWK Moodle
Link to Learning Management System Moodle.
u:book
Link to u:book-Site (Notebooks for sale at the beginning of the semester).