To drive the comprehensive reconstruction of the earthquake-devastated town of Accumoli, the award-winning orchestra academy "Accademia Vicino di Accumoli" was once again organized in 2023 by the Research Lab Sustainable Cultural Heritage at the University for Continuing Education Krems in collaboration with the Art in Dialogue association and local partners, including the municipalities of Accumoli and Norcia. In addition to nurturing young musical talents, concerts and events provided opportunities to promote regional unity.
The Accademia Vicino di Accumoli stands as an innovative project for the holistic reconstruction of the earthquake-ravaged town of Accumoli. Bringing together young musical talents in the Italian Apennines, this initiative offers two weeks of immersive musical experiences during the summer. The process of reconstruction extends beyond mere structural renewal. It encompasses the revival of Accumoli's cultural, social, and communal life, a vital step towards generating economic vitality for the region. Last year, this project received recognition from the Federal Chancellery through the European State Prize in the Arts and Culture category. The Music Academy is administered by the Research Lab Sustainable Cultural Heritage at the University for Continuing Education Krems, in partnership with the Art in Dialogue association, in collaboration with the city of Accumoli, the city of Norcia, the Corpo Bandastico di Accumoli, Pro Loco di Accumoli, Radici Accumolesi, and other local partners.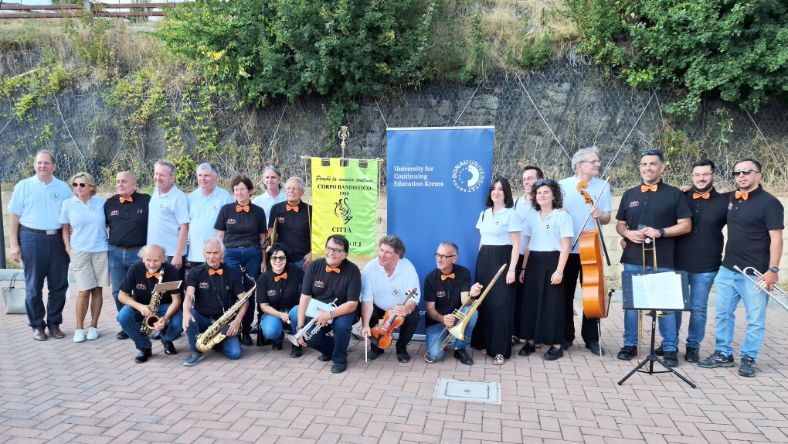 A group photograph captures the Accademia Vicino Accumoli and the Corpo Bandastico di Accumoli on the occasion of the opening of the "Sagra delle fettuccelle alla trotta" on August 20, 2023, in Accumoli - Photo: Marzio Mozzetti
Previous image
Next image
Diverse Concert Program
Participants of the academy were offered a multifaceted program focused on three main areas: intensive orchestral performance, chamber music training, and individual lessons and seminars covering practical musical topics. From August 17th to 24th, 2023, an engaging program featuring chamber music compositions by Haydn, Mozart, Beethoven, and Schubert was meticulously crafted under the artistic guidance of Maestro Johannes Wildner. These performances were presented to the public through a series of events in Accumoli and Norcia. The program encompassed evenings dedicated to chamber music, musical collaborations with the Corpo Bandastico, a commemorative concert, a public lecture and performance highlighting the art of quartet playing during the Viennese Classicism era, as well as a public discussion on the reconstruction process involving political stakeholders. Furthermore, an open discussion was held with Guido Castelli, the extraordinary government commissioner overseeing the reconstruction efforts after the 2016 earthquake, Franca D'Angeli, the Mayor of Accumoli, and other local organizational representatives. The project is scientifically monitored regarding its relevance for the reconstruction process.