Macron ist gewählt – aber wie geht es Frankreich? Teilen die Franzosen die Euphorie auf europäischer Ebene, oder macht sich vielmehr nach der Wahl Katerstimmung in Frankreich breit? Kann eine neue Bewegung der zunehmenden Ratlosigkeit der Bürger entgegenwirken? Diese und weitere Fragen wurden von internationalen Experten und Expertinnen auf der ersten "Krems Annual Conference on European Democracy", veranstaltet vom Department für Europapolitik und Demokratieforschung der Donau-Universität Krems, diskutiert.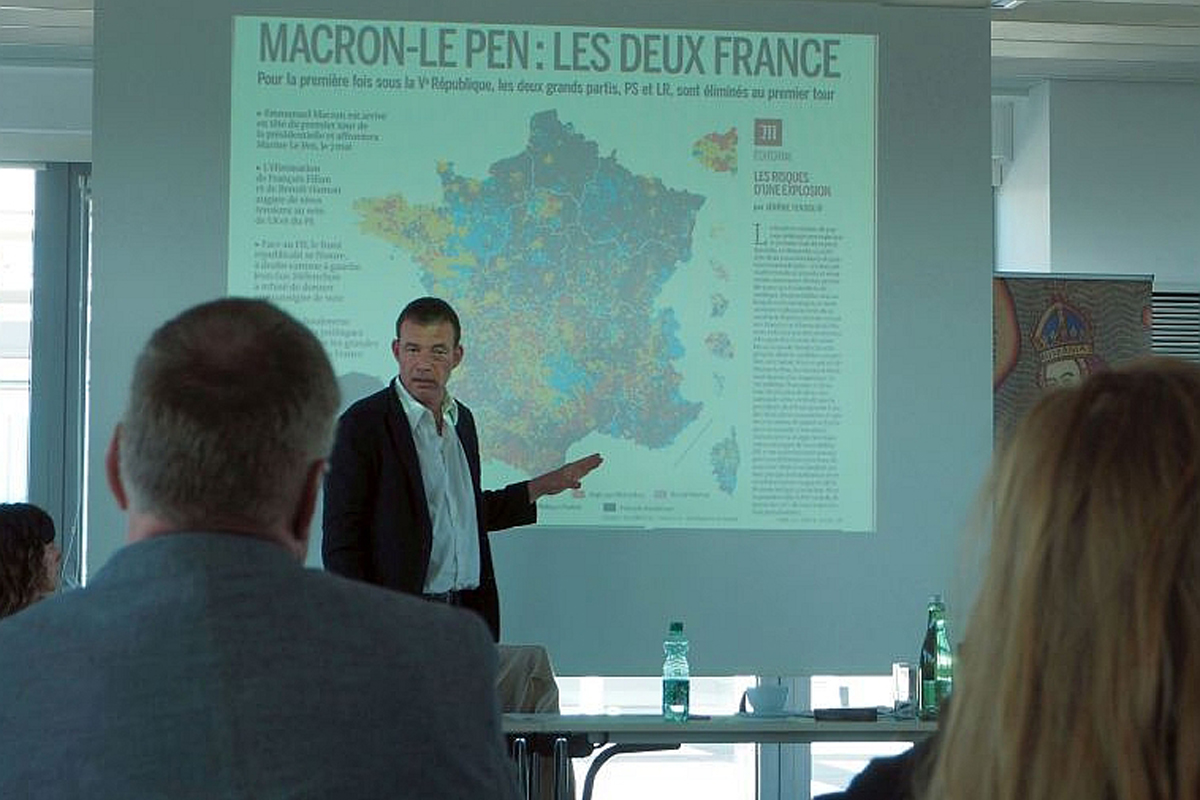 Die Lage Frankreichs nach dem Ausgang der Präsidentenwahlen bzw. vor den Parlamentswahlen stand im Mittelpunkt der Konferenz "What happened to France – from political decomposition to fragments of societal reconstruction". Dabei widmeten sich die beteiligten Wissenschaftler und Wissenschaftlerinnen der Analyse der Hintergründe des gegenwärtigen Aufstiegs des Populismus sowie dem Zerfall des klassischen Parteiensystems. Der Fall "Frankreich", so länderspezifisch manche seiner Hintergründe sein mögen, gibt diesbezüglich wichtige Hinweise auf Entwicklungen in anderen europäischen Ländern.
Im intensiven Austausch erarbeiteten die WissenschaftlerInnen und MedienvertreterInnen aus Frankreich, Österreich und Deutschland teils überraschende Befunde. Demnach steht beispielsweise die Sozialstruktur Frankreichs vor einem gänzlichen Umbruch. Die vormaligen sozialen Klassen wie Arbeiter und Bourgeoisie sind endgültig und unwiderruflich in Auflösung begriffen, jedoch gilt für die Wirtschaft die These "Totgesagte leben länger". "Es erscheint unerlässlich, zumindest ein sehr differenziertes Bild der ökonomischen Landkarte Frankreichs zu zeichnen", betonte Univ.-Prof. Dr. Ulrike Guérot, Leiterin des Departments für Europapolitik und Demokratieforschung.
Ökonomische Landkarte
Guillaume Duval, Chefredakteur der Zeitschrift "Alternatives Economique Paris", nannte dabei Tatsachen wie strukturelle Schließungen von Großbetrieben beim Namen, wies aber zugleich auf die maßgebliche Rolle Frankreichs beim Überleben der Eurozone hin. Start-ups, vor allem im technischen Bereich, zeigen eine überaus lebendige Gründerszene in Frankreich. Univ.-Prof. Dr. Dietmar Loch, Professor an der Universität Lille, und Univ.-Prof. Dr. Nicole Colin Umlauf (Aix-Marseille University) wiesen jedoch auf das starke sozioökonomische Gefälle zwischen Stadt und Land hin; was mit ein Grund für das starke Abschneiden des Front National in den ländlichen Regionen ist.
Umbrüche wie der derzeitige verlangen nach einer epochalen Neuordnung, zumal die Trias Staat-Bürger-Nation endgültig von Auflösung begriffen zu scheint, so die KonferenzteilnehmerInnen. Im Beitrag von Univ.-Prof. Dr. Christoph Reinprecht, Professor am Institut für Soziologie der Universität Wien, wurde im Lichte dieser Neuordnung der allgegenwärtige Abgesang auf die Zivilgesellschaft hinterfragt.
Die Frage, ob neue Medien das alleinige Sprachrohr dieser Zivilgesellschaft sein können, wurde im Beitrag von Guillaume Klossa, MBA, MPA, MSc, dem Direktor der European Broadcasting Union Geneva, aufgeworfen. Eine prekäre Finanzierungslandschaft als französisches Spezifikum macht jedenfalls die Arbeit der Engagierten nicht leichter. Die Jugend blickt nach vorne, fordert aber gleichzeitig schonungslos Antworten auf substantielle Fragen wie die Bildungsmisere oder die Perspektivlosigkeit am Arbeitsmarkt ein, wie Lea Zacharie vom Radio Campus Paris in einer Panel-Diskussion herausarbeitete.
Auftakt der Reihe "Krems Annual Conference on European Democracy"
"Auf der ersten ,Krems Annual Conference on European Democracy' wurde die Vielschichtigkeit der französischen Gesellschaft und ihrer Herausforderungen sichtbar", sagt Ulrike Guérot. "Die Auftaktkonferenz unserer jährlichen Reihe kann daher als Erfolg gewertet werden, umso mehr als sie auch auf reges Publikumsinteresse stieß", so die Konferenzorganisatorin weiter.
Die Ergebnisse der Konferenz werden nun in einem Sammelband für den Dietz Verlag von den Referenten und Referentinnen verarbeitet (Krems Publication Series on European Democracy), der bereits im September 2017 erscheinen soll, und in Bezug auf die rezente Analyse Frankreichs ein Alleinstellungsmerkmal am gegenwärtigen deutschsprachigen Buchmarkt haben wird. Die zweite "Krems Annual Conference on European Democracy" wird 2018 stattfinden; dabei werden voraussichtlich die aktuellen Entwicklungen und Ereignisse in Polen im Zentrum stehen.
Galerie: Conference on European Democracy