Students of the University for Continuing Education Krems are individuals who have already completed an academic degree and / or have already gained a wealth of experience in their professional lives. They are professionals who want to expand or update their expertise and competences building upon their existing knowledge and experience. They aspire to face the challenges of a rapidly changing, complex, networked and globalized society successfully.
In order to meet the needs of this special group, the University for Continuing Education Krems pursues six pedagogical principles in teaching, in accordance with its statutory mandate that is based on scientific teaching and research in relation to continuing education.
Scientific learning: Learning processes are aligned to the content and methods of international academic research findings. The teaching at the University for Continuing Education Krems thus contributes to the general trend of the scientific basis of social life and supports the professionalization of practices that are actuated by recent (scientific) research findings.
Practice-based learning: The University for Continuing Education Krems aligns its teaching with the professional challenges and experiences of the students (reflective practice) and supports the acquisition of new professional skills. There is no contradiction between scientific and practical orientation, as "Nothing is more practical than a good theory" (Kurt Lewin).

Activity-based learning: Genuine activities are essential for hands-on knowledge. Only through these genuine activities, the "inert knowledge" can be transferred into experiences and implemented practically as a skill in real situations. It is important to note that thinking is also a form of action, a (mental) activity, that must be tested, practiced, and promoted like all the other acts. Moreover, establishment and maintenance of social relationships (students and teachers learn with and from each other) is also part of the activity-based learning.

Competence-based learning: Teaching at the University for Continuing Education Krems primarily aims to develop skills and abilities to cope with complex situations in professional contexts. Competencies are integrated behavioral dispositions, i.e. skills or abilities to behave in a certain way. The University for Continuing Education Krems adopts a holistic approach that integrates technical, methodological, social and personal competencies.

Outcome-based learning: A key measure of the quality of teaching at the University for Continuing Education Krems is the learning outcomes of students. Applied teaching methods and teaching strategies are therefore not the goal, but tools to reach the structured and measurable learning goals.

Individualized learning: Students' different learning backgrounds and competences are taken into consideration in teaching and the individualization of learning is promoted through organization of appropriate teaching and learning arrangements. To meet the individual conditions and needs of working students, especially concerning time, the University for Continuing Education Krems employs integrated blended learning arrangements. The structure and format of blended learning (timing and extent of classroom teaching, supervised e-learning and self-study, and ratios between different methods) can be determined according to the intended learning outcomes for specific courses or modules.
These six pedagogical principles are implemented in the following intended course structure:
Theory: Acquisition and transfer of knowledge as well as innovative advancement of knowledge (scientific learning)

Experience: Increasing competencies based on the learners' own experiences and the experiences of successful practitioners (practice and competence-based learning)

Application: Implementation and expansion of acquired skills through project work (theory, practice and activity-based learning)

Exercises: Learning, practicing and reviewing the acquired competences through hands-on activities such as case studies, problem-based learning, etc. (all principles)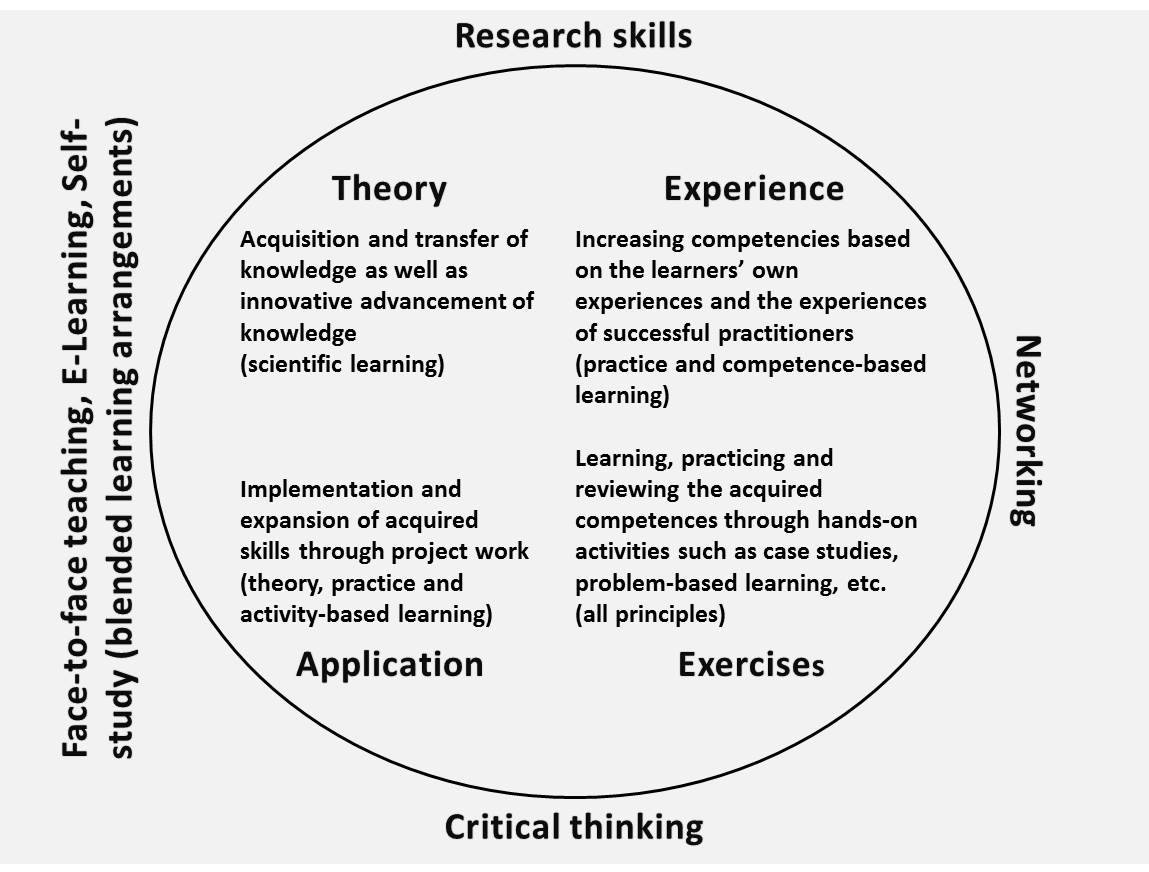 (Decided 19.3.2013)