Since November 2017 cooperation with Prof. Christoph Bläsi - initially supported by the Johannes Gutenberg University (Research Funding Level I) - on the project "Culinary Knowledge: Appropriation and Preservation 1950-1980". Further supporter of the project is "mainzed", the Mainz Centre for Digitality in the Humanities and Cultural Studies.
In the course of the interdisciplinary project
culinary transfers are reflected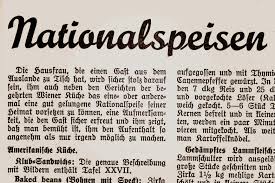 in which manner different regions and cultural areas left an impact on cookbooks published in West Germany and Austria in the 1950-1980. The data is analyzed by using digital humanities methods and by following hermeneutical cultural studies approaches.
International experts attended a workshop held in Mainz in November 2018 (link https://www.hsozkult.de/conferencereport/id/tagungsberichte-8213); since end of 2018 first results of the project are being presented at various conferences.